If a lot of people gripped a knife and fork the way they do a golf club, they'd starve to death.  ~Sam Snead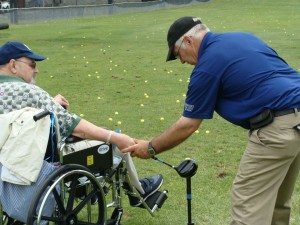 Why Is Adaptive Golf Important?
If you have a life changing experience – "Golf can offer a great mode of Therapy." Using specialized equipment and training methods – CV Golf can keep individuals on the golf course having fun with friends and family. At CV Golf we have worked with rehabilitation hospitals, VA hospitals, therapists, and individuals to keep individuals engaged and playing golf. Advances in golf equipment and aides has allowed us to help individuals truly make golf – "A Game for a Lifetime."
Adaptive Golf Services That We offer:
Individual Instruction and consultations
Specialized Equipment and Club Design
Training Courses for Therapists
For further information on our Adaptive Golf Services contact CV Golf at 518-421-1798.